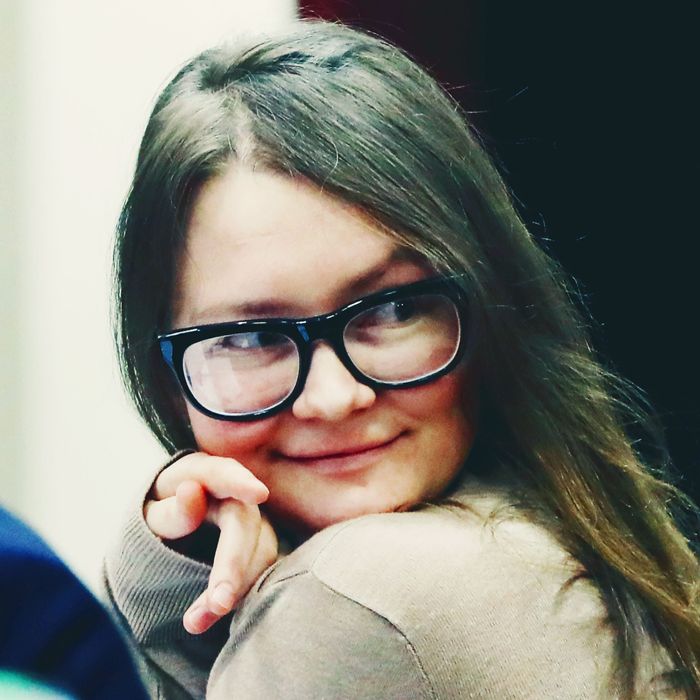 Photo: Richard Drew/AP/Shutterstock
What's a woman to do after she's been found guilty of grand larceny and theft of services and becomes one of the most famous "scammers" of our times? Sell NFTs, of course. Anna Sorokin, also known as Anna Delvey, announced on Thursday that she was launching her own exclusive collection of NFTs — a business everyone knows is totally on the up and up, no sketchiness whatsoever.
"I'm trying to move away from this, like, quote, unquote scammer persona," Sorokin told NBC News of her new business venture. "This is, like totally, has been pushed upon me by the prosecution and by the following media and by the Netflix show, but I'm trying to move away from that definitely." The ten newly minted NFTs are called "Reinventing Anna" — a play on the Netflix series based on her life as a New York socialite titled Inventing Anna, so she's not moving too far away from her scammer stardom.
The Reinventing Anna NFT will supposedly grant the owners exclusive access to Sorokin, who is still currently in ICE custody after overstaying her visa. According to Sorokin's official website, NFT buyers will get access to "exclusive livestreams and other online and metaverse events." There will also be a tier of "top holders," who will "have access to coveted personal items from her time in prison," sketches by Sorokin, and one-on-one phone calls with the woman herself.
As for the NFT itself, it was created in collaboration with artist and animator Jonny Ryan, and features a credit-card design — the Anna Access Card — with a comic-style image of a prisoner telling their visitor, "You look poor."
Despite Sorokin's website claiming that this is her "first creative endeavor" since she made headlines in 2018, it's actually at least her second. Less than a month ago, she celebrated her art show, "Allegedly," which featured sketches she drew in ICE custody. Sorokin currently sells prints of these sketches for $250 each. A few months before that, her sketches were included in a "Free Anna" art show. The hustle of a former fake German heiress never stops.
Psst! The Cut and New York Magazine are conducting a survey about dating. We want to know all about your swipes, IRL hookups, bad dates, and everything in between. Interested? Click here.
Anna Delvey Is in the NFT Business Now