A special kind of art gallery in Chicago is emerging as a brick-and-mortar trailblazer in the digital art world.
The art space imnotArt in Chicago's Wicker Park neighborhood bills itself as the city's first physical NFT gallery and one of the first of its kind in the world.
An NFT, or non-fungible token, is digital content linked to the blockchain, the digital ledger keeping track of cryptocurrencies like Bitcoin and Ethereum. A popular type of NFT is digital art in the form of images, videos or audio. After a collector purchases an NFT, their proof of purchase is recorded on the blockchain, most often Ethereum's.
Inside the imnotArt gallery, screens displaying different works of digital art line the walls. At NFT "drops," or exhibits, visitors can use their phones to scan QR codes and place bids on NFTs.
imnotArt founder Matthew Schapiro said the gallery's name is a tongue-in-cheek nod to NFT naysayers.
"People are looking at this and they're incredibly skeptical, like 'Is this art? What is this?'" Schapiro said. "That's how we came up with our ethos and name – clearly we believe its art and we wanted to build a gallery to showcase it in the best way possible."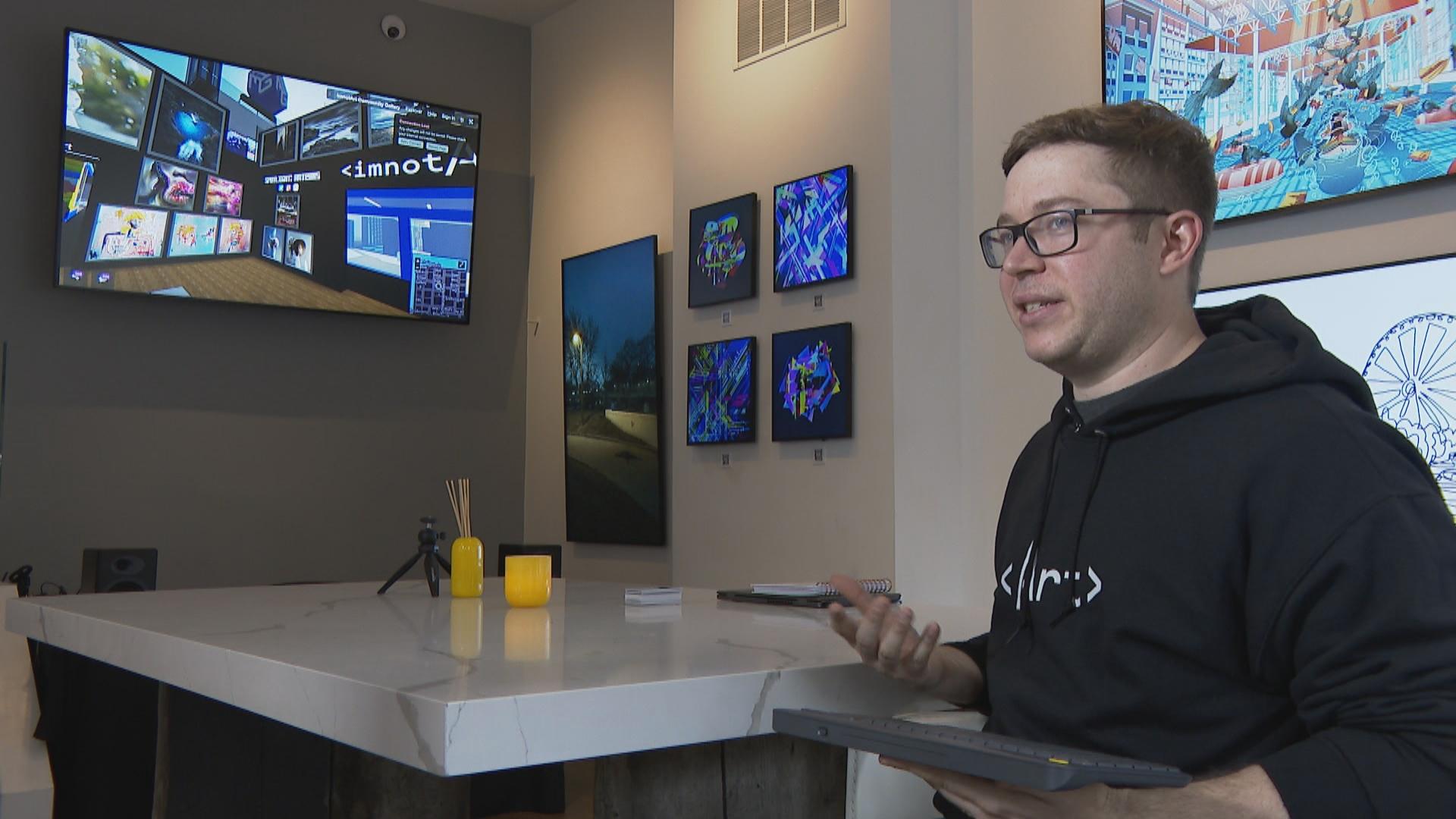 Matthew Schapiro, owner of the NFT gallery imnotArt, demonstrates the gallery's virtual space in the metaverse on Nov. 10, 2021 (WTTW News)
NFTs made international news on March 11, when the digital work "Everydays: the First 5,000 Days" by the artist Beeple sold at Christie's auction house for $69.3 million – the most-expensive NFT ever sold. On Nov. 8, Christie's sold another NFT by Beeple, a 7-foot structure covered in LED screens called "Human One," for $28.9 million.
Before imnotArt opened its doors to the public in June, it existed virtually in the metaverse – a digital landscape growing in popularity since Facebook recently announced a major investment in the technology and rebranding as Meta.
Now, visitors can check out NFTs in person or virtually. On Friday, imnotArt hosted the NFT drop of visual artist Brendan Fernandes' "Souvenir" project.
The environmental impact of NFTs is a major criticism of the industry. Minting NFTs, or linking the digital art to the blockchain, uses a great deal of energy. Fernandes said he hopes to pursue his NFT art in an ethical way.
"Two percent of this drop will go to sustainability looking through different sources to generate building community but also support growing trees and taking care of the environmental issues that this is coming with," Fernandes said.
---