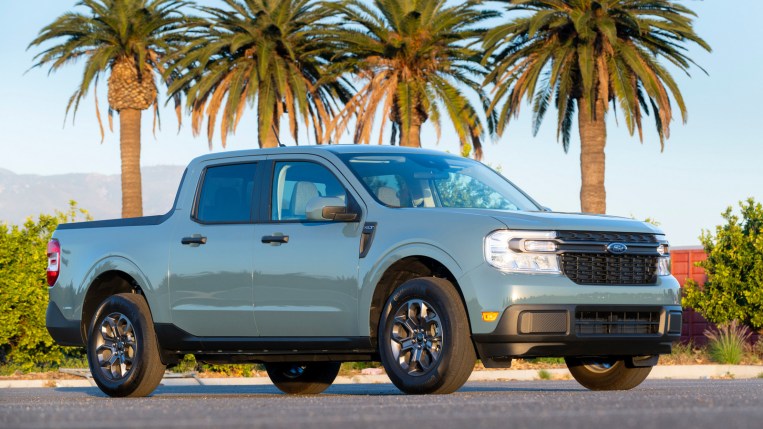 Kelley Blue Book's annual Best Buy Awards are out. To mark the occasion, KBB.com has commissioned a one-of-a-kind artwork from Atlanta-based digital artist Bloo Woods. It depicts the evolution of the automobile since Kelley Blue Book's beginnings in 1926. It ends with this year's best new model winner, the 2022 Ford Maverick.
"Model NFT by KBB.com" is an animated non-fungible token (NFT) that brings to life Kelley Blue Book's 95 years of trusted automotive knowledge and showcases the evolution of cars. It will be on auction on the NFT OpenSea, the world's largest NFT marketplace December 16-23, 2021.
Funds from the sale will go to American Rivers, a Washington, D.C.-based organization that protects clean waters and rivers across the country.
Model NFT by KBB.com puts the evolution of transportation over nearly a century into animated motion. In addition to showing the change in vehicles, it also tracks how Kelley Blue Book evolved since its start as the first printed book of car values in 1926. Today, Kelley Blue Book has grown into a trusted multi-platform source of information guiding buyers through the car-shopping process online.
"With the rise of cultural currency, it is exciting to engage and bring Kelley Blue Blook's history to this digital collectibles boom," said Editorial Director Jason Allan.
About the Awards
The artwork celebrates the release of KBB's 2022 Best Buy Awards.
The awards help shoppers find the car that won't let them down across 17 categories.
KBB Editors spend a year evaluating and testing nearly every new vehicle available in the United States. They also analyze a broad array of vehicle-related data. These include vehicle pricing, 5-Year Cost to Own data, consumer reviews and ratings, and vehicle sales information.
Sean Tucker is an author specializing in covering the automotive and energy industries from a consumer's viewpoint. As a reviewer and consumer advocate, his work has appeared in U.S. News and World Report, Yahoo Autos, MSN, Dub Magazine, and more. He's been an expert guest discussing car shopping on cable news. He has also served as both reporter and lead editor for energy and insurance industry… Read More about Sean Tucker