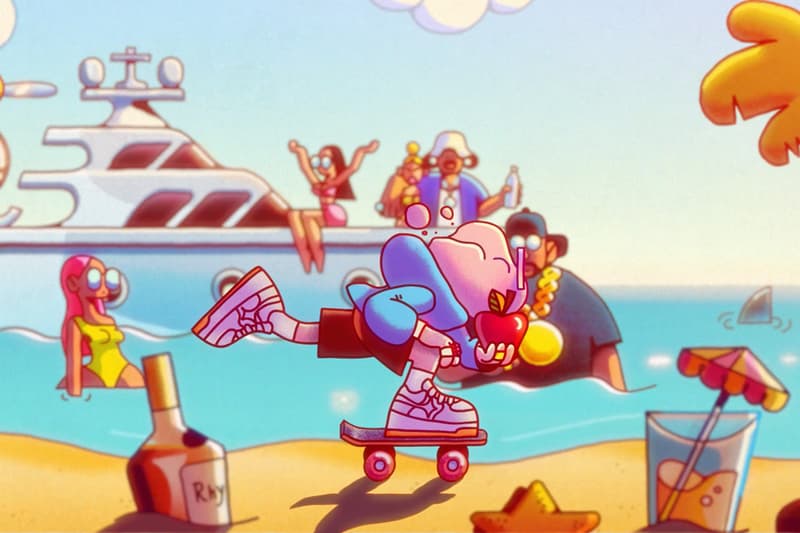 Meet Puff and enter the Rhymez universe.
---
Robin Velghe, aka Rhymezlikedimez, recently teased a set of NFTs as part of last week's Miami Art Week.
Meet Me On Cloud 9 is a series of eight animated NFTs that pays homage to street culture and other seminal figures in the sphere of pop culture. Within it, a new character named Puff is seen skating past a quaint setting filled with sunshine and nostalgia. The Belgian artist specifically makes reference to fashion icon, NIGO, Studio Ghibli's Hayao Miyazaki, Kanye West, N.E.R.D. and more. Rhymezlikedimez also worked with N.E.R.D. and The Neptunes producer, Chad Hugo, on choice beats to complement the work.
"Robin uniquely captures the artist's distinct personality in his art," Hugo said. "He interprets sounds and music creating unique worlds in fine detail. I'm thankful and appreciative. Definitely provides a calm and cool vibe to this currently chaotic world we live in," Hugo added.
Music is a major proponent of Rhymezlikedimez's work, having forayed into the field to make art that people can relate to. The eight Meet Me On Cloud 9 NFTs are available now to puchase on OpenSea, with the lowest price currently sitting at 0.25 ETH / $1,104.70 USD.
In other art news, V1 Gallery is selling an assortment of children's toys by Keith Haring.