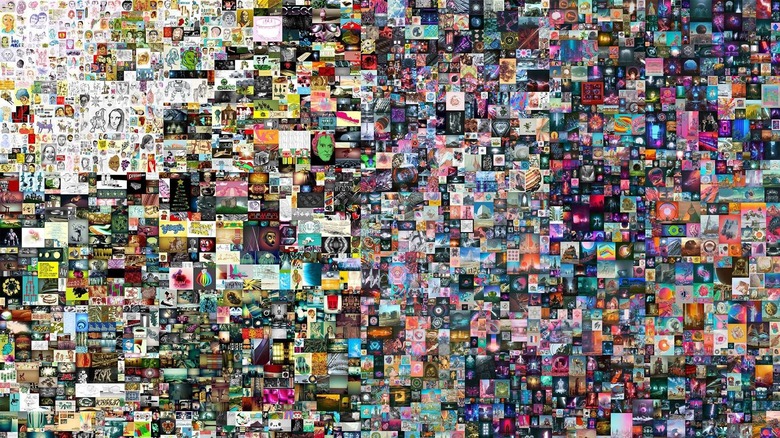 Christie's Images/Beeple
In just a few short years, NFTs have gone from a niche interest to a mainstream trend, their popularity buoyed by the mania around the cryptocurrency market in general. The most popular NFT collections have become household names, with celebrities and investors alike showing off their freshly-acquired CryptoPunks, Bored Apes, and Moonbirds. The basic premise of an NFT is that it's a piece of code that lives on the blockchain, and it's non-fungible, that is, it can't be traded at equivalency, according to Investopedia. The Verge helpfully sums them up as a kind of digital trading card, and similar to real-life trading cards, the rarest ones are of great interest to collectors.
Artists have used NFTs as a medium to sell their work directly to their fans, and countless new collections have sprung up on marketplaces like OpenSea, many of them algorithmically generated. Prices for the most desirable NFTs have risen sharply between 2020 and 2022, although a wider sell-off in the crypto space and the sudden collapse of the stablecoin Terra has dampened the market. However, up until very recently, new records for NFT prices were constantly being set, and the most expensive ones have gone for some truly mind-blowing sums. Will the market permanently deflate or will it continue to rise after this recent dip? Only time will tell, but for now, these are the most expensive NFTs ever purchased.
Pak, The Merge – $91.8 million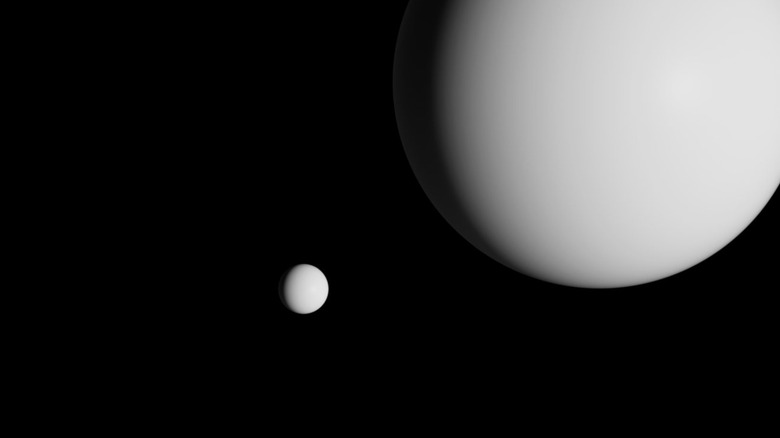 Pak
The most expensive NFT artwork sold to date was created by Pak, an anonymous digital artist who was an early pioneer of the NFT art space. Unveiled in December 2021, The Merge is a collection of 312,686 units of mass, which can be combined together to form a single artwork. A total of 28,983 collectors each bought a section of the piece, which was converted into individual NFTs for each buyer at the end of the auction period. It was sold through NFT marketplace Nifty Gateway, and it could be argued that it's the most expensive artwork ever sold by a living artist, according to Barrons.
However, it should be noted that there is some debate over whether The Merge classifies as a single work or a collection, given the fact that each section of the work was split into individual NFTs after the auction ended, as per Barrons. In their statement celebrating the work's release, Nifty Gateway founders Duncan and Griffin Cock Foster claim it to be the most expensive piece of NFT artwork ever, although even they acknowledge that after it sold, The Merge was split into nearly 29,000 separate NFTs and therefore was not a single token. So, is it the most expensive NFT artwork or is it simply a very popular collection? This ambiguity reflects the overall emerging nature of the NFT space, and it's unlikely that anyone will agree on a clear answer anytime soon.
Beeple, Everydays – The First 5000 Days – $69.5 million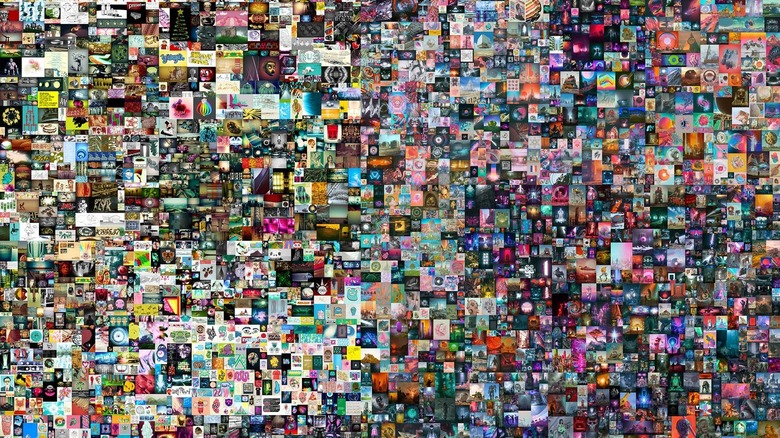 Christie's Images/Beeple
Beeple, a digital artist whose real name is Michael Winkelmann, is one of the most popular creators of NFT artworks, his rapid rise to fame being closely tied with the rise of the medium. His most valuable work is Everydays – The First 5000 Days, which sold at a first-of-its-kind auction at Christie's for $69.5 million in March 2021. The work was reportedly bought by MetaKovan, the pseudonymous founder of the NFT investment fund, Metapurse. It remains the largest amount paid for a single NFT to date.
The piece is a collage of smaller digital works that Beeple had been producing at a rate of one a day over the previous fourteen years, hence the title of "The First 5000 Days." The works range from political sketches to otherworldly scenes and represent perseverance from Winkelmann as much as their literal depictions, since The Verge reports that up until October 2020, the most he had ever been able to sell a print for was $100. The unbelievable final price of Everydays – The First 5000 Days was seen as a landmark moment in NFT history, and it instantly made Beeple the third most valuable living artist, behind Jeff Koons and David Hockney.
Pak and Julian Assange, Clock – $52.74 million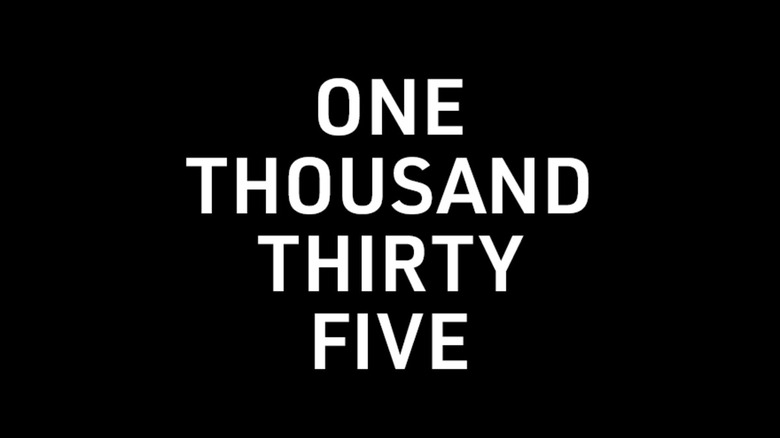 Pak
Developed in response to the arrest of WikiLeaks founder Julian Assange, digital artist Pak and a team of Assange's supporters created a single-edition NFT that simply displays the number of days that Assange has been incarcerated. Funds from the sale were reportedly donated to Assange's legal defense team, who are currently fighting his extradition from the UK to the US. A smaller fraction of the proceeds also went to a variety of organizations fighting for causes like freedom of information, digital privacy, and human rights, according to Designboom.
The winning bid of 16,593 ETH was made by AssangeDAO, a decentralized autonomous organization made up of over 10,000 individual contributors. Each contributor to the sale received a proportional percentage of the DAO's governance token, which will reportedly be used to make decisions about the future of the NFT, according to Artnet. This token has dropped significantly in value since the original NFT was purchased in February 2022, with an initial value of $0.0031 and a current value of $0.00016 as of the time of writing. That's a roughly 95% drop in value in just three months.
Beeple, Human One – $28.9 million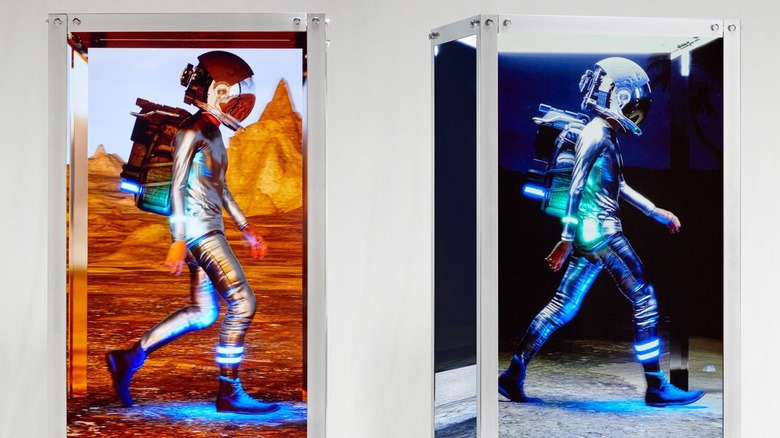 Beeple
The second most valuable Beeple artwork is Human One, a piece depicting an astronaut walking through various otherworldly backgrounds. It was sold at a Christie's auction in November 2021, and although the buyer has ownership of the NFT and corresponding video sculpture, Beeple retains permanent remote access to the work. He has committed to regularly updating Human One with new backgrounds, which depict a vaguely familiar world strewn with pop culture and art history references. According to NFTNow, the winning bid was from an anonymous online bidder based in Switzerland.
Human One is different from Beeple's other works in that it's his first NFT drop that is accompanied by a piece of physical artwork. The physical piece consists of four video screens, with computers built into its base. It's around seven feet tall, according to NFTNow, and the central figure displayed across the screens is the astronaut, Human One. The inspiration from the work reportedly came from Beeple having multiple TV screens on rollers in his studio, and thinking that he should combine them into one box unit. From there, the idea of a rotating digital canvas developed, and Human One was born.
Larva Labs, CryptoPunk #5822 – $23.7 million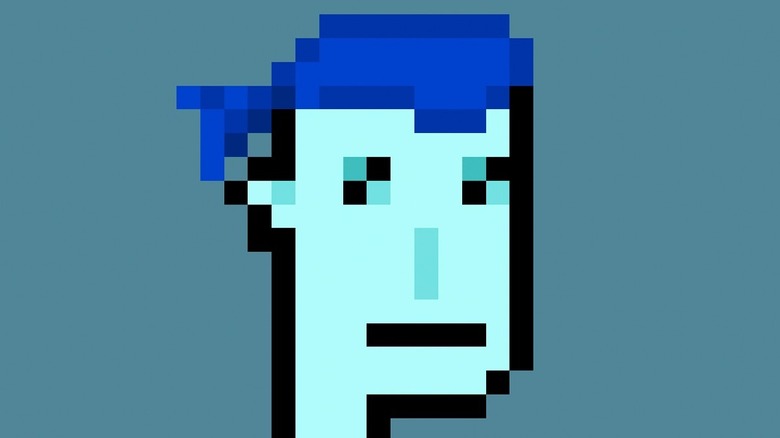 Larva Labs
One of the earliest examples of an NFT collection on the Ethereum blockchain, CryptoPunks have grown to be among the most valuable collections in the world. They are a set of 10,000 unique, algorithmically-generated "Punk" characters that, according to their creators Larva Labs, served as the inspiration for the ERC-721 standard, an interface that now powers that majority of Ethereum-based NFTs. A CryptoPunk's value is determined by the rarity of its attributes: the rarer the attributes, the more valuable the NFT.
CryptoPunk #5822 is one of the rarest of all, which explains its incredible selling price. Firstly, it has just one attribute, a feature that only 2% of the collection shares. That single attribute is a bandana, which is rare in itself, as only 5% of the collection sport one. The Punk's skin type is alien, which is the biggest factor in pushing up this NFT's value, as only 0.09% of the collection share this skin, a total of 9 NFTs out of a collection of 10,000. Punk #5822 was bought by Deepak Thapliyal, CEO of blockchain tech company Chain, for 8,000 ETH, roughly $23.7 million USD at the time of sale.
Larva Labs, CryptoPunk #7523 – $11.75 million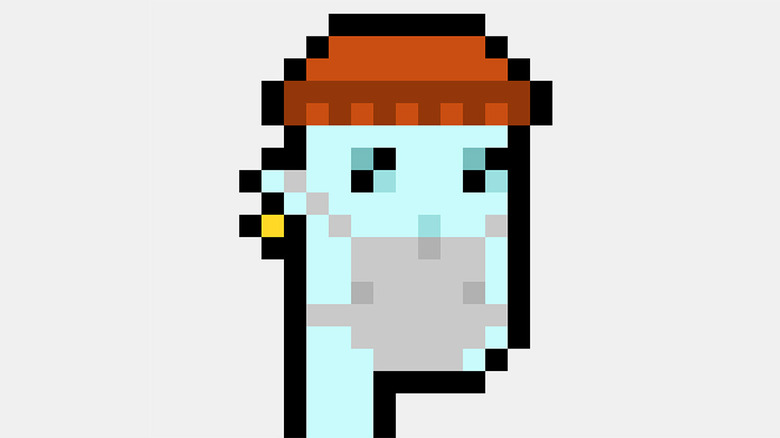 Sotheby's/Larva Labs
Another rare CryptoPunk that sold for an unbelievable sum, #7523 has been dubbed the "Covid Alien" thanks to its face mask and alien skin type. It was sold at a Sotheby's auction in June 2021, and despite its sky-high selling price, not all of its features are particularly rare. It has three attributes, one of 4,501 Punks in the collection with that many. It sports an earring, a feature it shares with 24.6% of the collection, and a knitted cap, which it shares with 4% of the collection.
Its value is primarily down to the fact that it's the only alien-skinned CryptoPunk with a mask, a currently relevant attribute given the ongoing Covid pandemic. It sold at auction for a total of $11.75 million, a far cry from its previous sale in 2017, where it sold for just 8 ETH, worth $1,646 at the time according to the Cryptopunks App.
Larva Labs, CryptoPunk #4156 – $10.26 million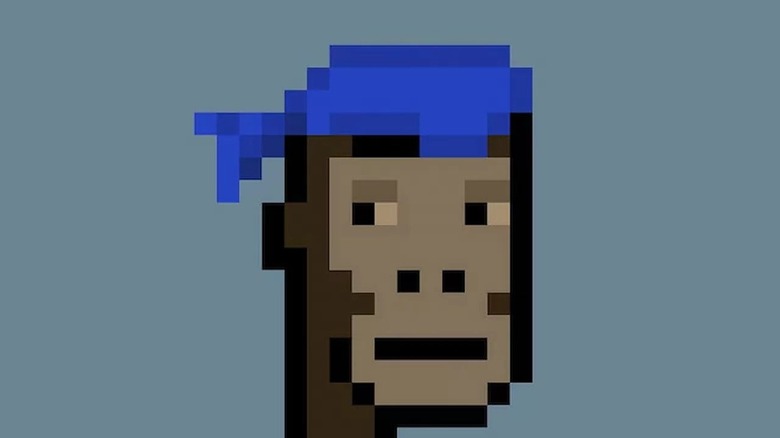 Larva Labs
As CryptoPunks have become more high-profile in the NFT and crypto space in general, an increasing number of collectors have been basing their personal brands around their Punks. Punk #4156 was, until December 2021, owned by an anonymous collector who went by the handle "Punk4156," but sold their prized NFT after a disagreement with Larva Labs over their copyright policies. Punk4156 had purchased their Punk in March 2021 for $1.25 million, but sold it at a nearly 10x profit in December of that year, for $10.26 million.
This high sale price was achieved thanks to #4156's rare features, being one of only 24 Ape Punks and having only one attribute, a bandana. The high-profile sale of #4156 triggered a wider debate on the licensing rights of CryptoPunks among the community, highlighting a lack of guidance from Larva Labs on the intellectual property rights that each Punk owner had. In March 2022, it was announced that Yuga Labs, creators of the Bored Ape Yacht Club, had purchased the IP rights to CryptoPunks from Larva Labs, and would give Punk owners a wider range of commercial rights to take advantage of the fame of their NFTs.
Larva Labs, CryptoPunk #7804 – $7.56 million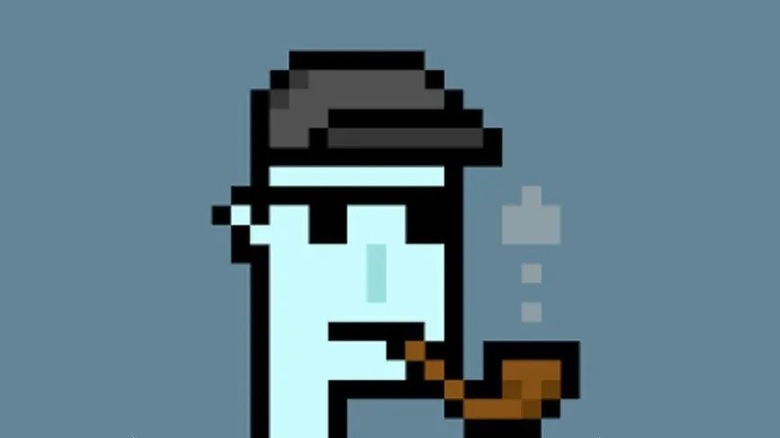 Larva Labs
In March 2021, NFT hype had reached an all-time high with the landmark Christie's auction that saw Beeple's $69 million Everydays – The First 5000 Days smash sales records and grab global attention. At the same time that the Beeple auction was nearing its completion, CryptoPunk #7804 was purchased for 4,200 ETH, worth $7.5 million, making it the most expensive Punk ever at that point.
Like most of the other ultra-valuable Punks, #7804 had an alien skin type, alongside a pipe, a black cap, and sunglasses. All of these attributes are rare, with only 3% sharing the pipe, 2.5% sharing the cap and 4% sharing the sunglasses. It was purchased by an NFT collector who goes by the handle Peruggia-v.eth. They have remained anonymous, but are an avid collector of Punks and similar algorithmically-generated collections, with four other CryptoPunks and 263 NFTs in total in their wallet at the time of writing.
Larva Labs, CryptoPunk #3100 – $7.51 million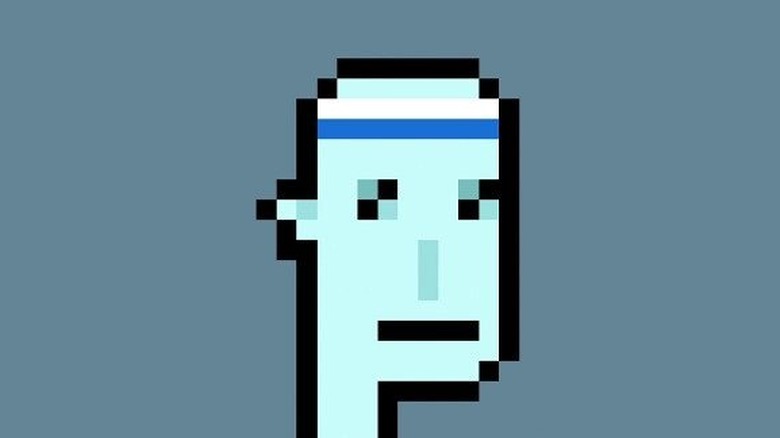 Larva Labs
The stratospheric rise in popularity for NFTs has seen the asking price for the rarest CryptoPunks increase hugely, as the 10x value increase of #4156 in just 10 months showed. But, it seems that some Punk owners have set their resale ambitions too high. Punk #3100 was bought in March 2021 for 4,200 ETH, roughly $7.51 million at the time of sale according to DappRadar. It was then listed a few months later, in August 2021, with an asking price of $90.5 million.
If it had sold at this price, it would have become by far the most expensive NFT ever sold at the time, beating Beeple's Everydays – The First 5000 Days by a considerable margin. However, it has so far failed to sell at its asking price. Despite their attempts to flip #3100 for a huge profit, it seems like the owner is significantly overvaluing their punk compared to realistic market demand, as DappRadar values it at just 1,454.5 ETH ($2.97 million) based on recent market trades at the time of writing.
Art Blocks, Ringers #109 – $7.11 million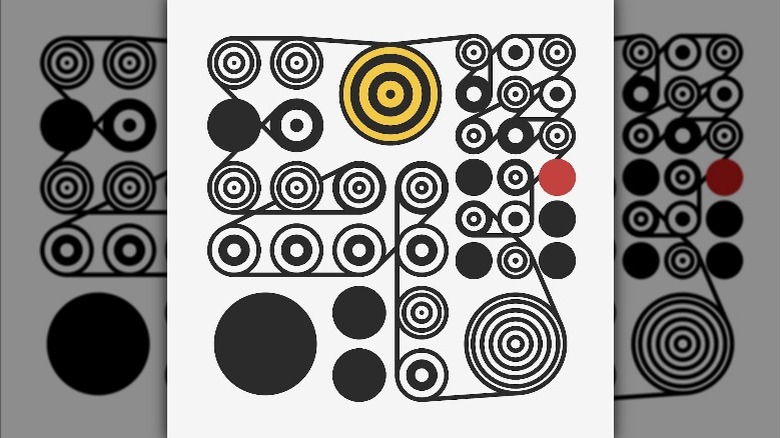 Art Blocks/Dmitri Cherniak
Ringers by Dmitri Cherniak is a series of 1,000 algorithmically-generated NFTs that feature a string wrapped around a set of pegs of various shapes, sizes, and colors. In October 2021, Ringers #109 sold for 2,100 ETH, worth around $7.11 million at the time of purchase, as per Etherscan. The buyer has remained anonymous but the seller revealed themselves as NFT personality Akira in a tweet shortly after the sale. According to the seller, they had bought #109 for just $550 in March 2021, giving the NFT a return of over 1.25m%.
Despite this record sale, interest overall in the Ringers collection has not remained as high as other algorithmically-generated NFT collections like CryptoPunks and the Bored Ape Yacht Club. The average sale price of a Ringers NFT sits at $96,700 at the time of writing, while the average BAYC sale price sits at $215,000 despite a much lower record sale price of $3.4 million.
XCOPY, Right Click And Save As Guy – $7.09 million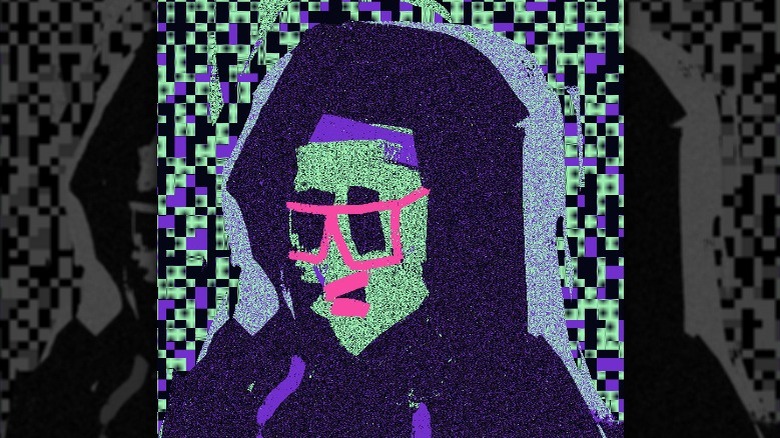 XCOPY
A popular rebuttal of the idea of NFTs has been that although they show a form of digital ownership, the actual JPG that the NFT corresponds to can be viewed and saved by anyone. Digital artist XCOPY poked fun at the idea with their work, Right Click And Save As Guy, which was minted in December 2018 but most recently changed hands in December 2021 for 1,600 ETH, a little over $7 million at the time of sale.
The buyer of the artwork is a collector who goes by the handle Cozomo de' Medici, and has a number of other pricey artworks in their collection, including a second work by XCOPY, Some Asshole, which was bought for $3.8 million. This prolific collector was supposedly unmasked as being none other than Snoop Dogg, who tweeted from his personal account that he was the mysterious personality. But, doubt has been cast on that claim, and some crypto enthusiasts have speculated that Snoop's reveal was merely a publicity stunt and that Russ, a fellow rapper, or even a well-connected publicist, might be the real owner of the wallet.
Beeple, Crossroads – $6.6 million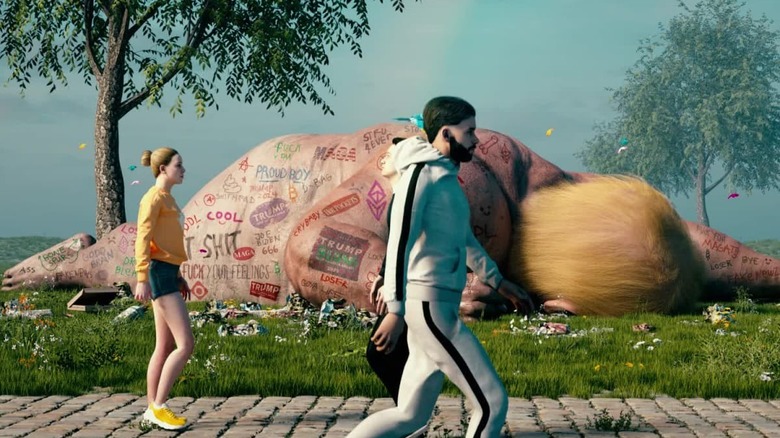 Beeple
One of the earlier high-profile NFT artworks, Beeple's Crossroads was first unveiled just before the 2020 US election, with the work changing depending upon the outcome of the election. Two versions of the work were made, one depicting a triumphant Donald Trump and the other a bloated, graffitied Trump corpse lying naked and ignored in a field. With Biden winning the election, the latter image was locked in as the permanent version.
Crossroads was originally sold for $66,666.66 after it was first minted, but in February 2021, it sold for $6.6 million on Nifty Gateway, helping to kick off the new wave of high-priced NFT artworks and establishing Beeple's name as one to watch. At the time, the work was the most expensive NFT ever sold, and the artist tweeted that he was "absolutely f'ing speechless" in response to the sale. He didn't know it at the time, but just one month later, another of his works would sell for ten times that figure, marking a high point in the hype around the NFT industry and propelling it onto the global stage.