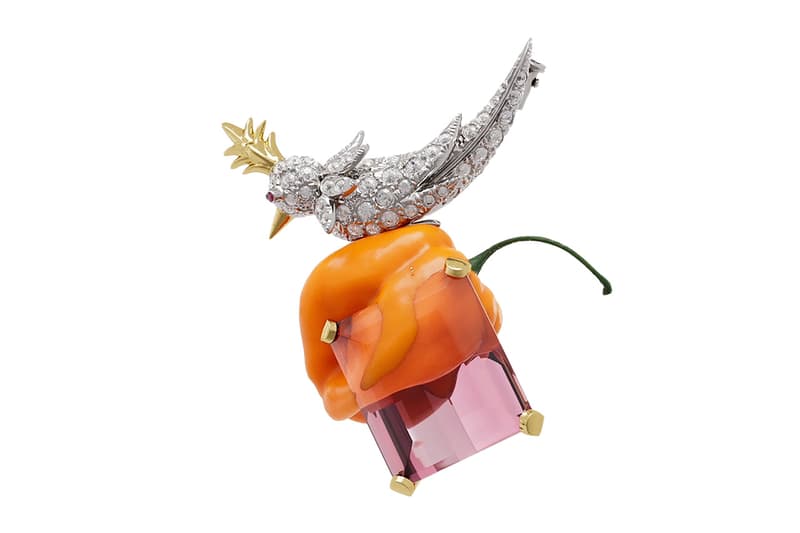 The digital artwork will hit auction on December 13.
---
When Urs Fischer released his first NFT, CHAOS #1- #501, the timing and release did not sit well with his former gallery, Gagosian. In an interview speaking on the matter, Larry Gagosian told The Wall Street Journal, that he wanted Fischer to have more time to explore his concept out fully before offering his NFT through the gallery.
Having recently joined Pace, Fischer is set to release the latest NFT in the CHAOS series. The artwork is a digital replica of Jean Schlumberger's "Bird on a Rock" colliding with an orange habanero pepper. The original was made back in the 1960s by the iconic French jewelry designer to accompany Tiffany and Co.'s iconic 128-carat Yellow Diamond.
As his latest exhibition is currently melting away in the Rotunda of Paris' Centre Pompidou, the Swiss-born artist reaffirms that his scope and choice of materials has no boundaries. In his own words, "anything can be used to create art—your mind, your hand, your elbow or toe." Fischer's latest NFT sculpture, CHAOS #101 Design, will auction on December 13 at 3:30pm PT via MakersPlace.
Speaking of Paris, teamLab will transform the upcoming Maison&Objet into a sea of colorful ovoids.