Cardano price has been under pressure this week as its NFT and DeFi ecosystems plunge. ADA was trading at $0.3152, which was about 5% below the highest level this month. This price is about 6.65% above the lowest level in November.
Cardano NFT and DeFi volume slips
Cardano price has been in a downward trend in the past few weeks. A closer look shows that the network's ecosystem has been under intense pressure. For example, the number of unique NFT buyers in its ecosystem dropped from 35k in October to 22.4k in November,
In the same period, the number of NFT sellers in the ecosystem dropped from 2,713 in October to over 992 in November. As a result, the total NFT sales in Cardano dropped from over $23 million in October to $8.9 million. The chart below shows the overall NFT sales and unique buyers in Cardano.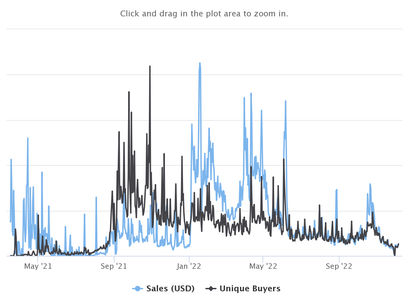 In contrast, as I wrote in this article, Ethereum saw the volume of its NFTs soared to $410 million in November from the previous $324 million.
Learn more about how to buy Cardano.
Meanwhile, the Total Value Locked (TVL) crashed from more than $431 million earlier this year to about $77 million. Most apps in its ecosystem like Minswap, Meld, WingRiders, Indigo, and SundaeSwap have seen their TVL drop by more than 25% in the past 30 days.
To be fair, most blockchains have seen their TVL crash hard in the past few months. After peaking at over $200 billion, the TVL in DeFi has dropped to more than $64 billion. The concern is whether people will embrace Cardano's DeFi projects like SundaeSwap. It appears that people have decided to stick with mainstream projects like Uniswap, PancakeSwap, and dYdX.
Meanwhile, on-chain data suggests that inflows into Cardano has been in a downward trend. At the same time, the number of Cardano social metrics has been falling recently.
Cardano price prediction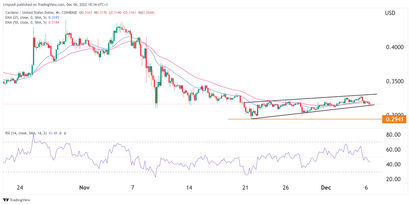 The four-hour chart shows that Cardano price has been in a slow upward trend in the past few weeks. Along the way, it has formed an ascending channel that is shown in black. It is now along the lower side of this channel and the 25-day and 50-day moving averages.
Cardano's Relative Strength Index (RSI) has moved below the neutral point at 50. Therefore, the coin will likely have a bearish breakout in the coming days as sellers target November's low at $0.2940. A move above the upper side of the channel will signal that buyers have prevailed.