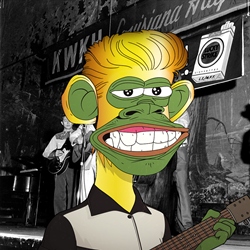 Elvis Presley is now a digital Rockabilly collectible.
…if you're a music fan, investor or are simply intrigued by the growth and future of digital collectibles, the RHOFM and Pepe Ape Yacht Club are building a boat you do not want to miss.
NASHVILLE, Tenn. (PRWEB) December 22, 2022
They are commonly uttered laments among those who miss an investment opportunity, or simply look back at history and wish they'd had a crystal ball:
"Hindsight is 20/20."
"I wish I knew then what I know now."
"I could've gotten in on the ground floor."
"I missed the boat on that one."
The Rockabilly Hall of Fame Museum (RHOFM) celebrates the music of the past and present with a new partnership that is nothing short of futuristic. It involves the web3 space and frankly, many of the terms that would surely leave iconic stars of the 1950's — and their fans — scratching their heads; terms like "NFT," "cryptocurrency," "digital," "blockchain," and "internet-based."
Welcome to Web3 … the generation of the digital world that goes beyond earlier generations of internet capability; searching for static content posted by others. The Web3 space is all about information, content, and now valuable assets, that are interactive and available upon demand in very personalized ways. When Siri and Alexa answer your call, that is a dynamic example of Web3.
In cooperation with a wildly inventive little internet entity called Pepe Ape Yacht Club, (PAYC) the Rockabilly Hall of Fame Museum, (and the allied Rockabilly Artists Alliance), a registered 501c3 that celebrates and promotes Rockabilly music, is rolling out never-before-seen-or-experienced digital collectibles, called "NFTs." The RHOFM has licensed exclusive images from its archives to PAYC for this remarkable opportunity.
What's an NFT? Imagine owning shares of the Mona Lisa, the Hope Diamond, or one of a limited run of unique minted coins. That is the essence of owning an NFT; a non-fungible token, a digital collectible with a unique identification code that tracks ownership of the token just as a VIN identifies a vehicle with its rightful owner.
With unique images and video clips licensed by the RHOFM, Pepe Ape Yacht Club is crafting limited edition tokens that may be held as-is, or for fun and unique entertainment, can "morph" into other images and benefits through the Pepe Ape Yacht Club platform. Each token, or NFT, carries a unique and unchangeable code; an identifier for its owner and subsequent investors who purchase from that original owner.
It the initial rollout, images and sound bites, many never before seen or heard, come from the Elvis Presley collection owned exclusively by the Rockabilly Hall of Fame Museum. Just like music, it's creative and entertaining, and all in fun … with a nice twist. An NFT can be a great investment.
Holders of PAYC can now go online and mint an exclusive Elvis NFT through this PAYC link. For direct access to the Rockabilly Elvis collection or to acquire via secondary once the initial sale has concluded, buyers should refer to opensea.
When Elvis Presley first began his career on the Louisiana Hayride, even his fans didn't know what to call his music. The press called him "the newest and freshest voice in country music", Hayride announcer Frank Page told Elvis he was "new and innovative" and that "they've been looking for something new in the folk music field," and kids started calling him "The Hillbilly Cat" or "The Memphis Flash."
"Elvis had something unique, something that didn't fit into any category of the day," says Joey Kent, owner of the Louisiana Hayride archives and VP/Curator for the Rockabilly Hall of Fame Museum. "He pioneered his own category – Rockabilly, and watched it blossom into Rock 'N' Roll. Now, with the Elvis NFT, we're part of a new pioneering effort; honoring the past in a way that has never before existed."
Like Elvis with music, PAYC is charting a new path in the growing NFT marketplace. The Pepe Ape Yacht Club has established a huge following in the Web3 arena with offerings that are truly new and innovative in the digital marketplace.
According to Kent, "The Rockabilly Hall of Fame Museum is drawn to the same characteristics that Elvis possessed and fashioned into greatness, and has licensed several Presley images from his Louisiana Hayride days to PAYC on their own rise to the top. The legacy of the Louisiana Hayride is as a place of innovation where artists could find themselves and perfect their craft on the way to the big time. As the maintainer of that legacy, The Rockabilly Hall of Fame Museum is committed to working with all manner of innovators as a way for the spirit of Rockabilly to live on."
Pepe Ape Yacht Club represents the two most iconic cultures in the web3 space by paying homage to iconic characters and building true ownership and access in a top tier digital community. The Elvis tokens both preserve and create new history, while offering true ownership-based rewards for investors who hold those unique tokens.
This NFT project is changing the direction of the NFT space and creating real use cases and purpose for blockchain association, according to PAYC. The project provides an open door with helping hands to ensure safe practices and allow holders to take full advantage of the many opportunities.
We are living in the "olden days" of digital collectibles. What is crafted today will be the Mona Lisa, or the Berkshire Hathaway share of tomorrow. In short, Kent says, "if you're a music fan, investor or are simply intrigued by the growth and future of digital collectibles, the RHOFM and Pepe Ape Yacht Club are building a boat you do not want to miss."