When it comes to NFT project popularity, there's no contest: The Bored Ape Yacht Club will take the cake every time. Having established near dominance over the PFP NFT market, Yuga Labs and its expansive BAYC ecosystem have continued to maintain their hold on Web3, even when announcements and project updates were few and far between.
But now, the next chapter of BAYC has been initiated, sending the NFT community into a frenzy. Launched via a short film titled The Trial of Jimmy the Monkey, the forthcoming phase of BAYC's lore has prompted excitement, skepticism, and speculation. So to clear the air before Yuga's impending mint event arrives, we've compiled this short guide featuring everything you need to know about this BAYC universe expansion.
The Trial of Jimmy the Monkey
Everything begins with the new BAYC short film The Trial of Jimmy the Monkey. At nearly two minutes long, the animated offering centers on a character named Jimmy, who provides a basis for a new chapter of the Bored Apes' story. Packed with action and humor (albeit lowbrow at times, but who could blame them), the film features a mysterious box and key presented to a group of partying BAYC members by way of a time-traveling toilet knight.
Led by BAYC mascot Curtis, throughout the film, the obvious importance of this box is satirized, and eventually, the key ends up in Jimmy's stomach, with malcontented BAYC members keen on retrieving it no matter the cost. But beyond the absurdity and poop jokes, the NFT community, notably Twitter user Ryder333, has already begun dissecting the video to reveal its underlying meaning. And for good reason, considering even the official BAYC Twitter account urged community members to "pay attention to the signs," stating that details might become important down the line.
Yet, beyond the discoveries made concerning time travel and how it might affect the BAYC lore, collectors and enthusiasts might benefit further at MDvMM.xyz — a new website erected by Yuga to chronicle the Apes' ongoing expansion. Because while an official Yuga news release states that "all questions will be answered in time," the aforementioned site lays out, in plain terms, exactly what should be expected.
The BAYC chapters to come
According to the MDvMM site, there will be a total of six chapters within this current BAYC lore expansion, with "The Trial of Jimmy the Monkey" acting as a prologue. Next to come on the roadmap is a stop on December 28 titled "Mysteries Revealed." Could this be another short film? Perhaps a blog post? Currently, it's anyone's guess. But what we can surmise is that things will really start to heat up in the new year.
Come January 11, details surrounding the forthcoming BAYC mint will be revealed. On this day, Yuga will release a guide that BAYC community members can study to "strategize" for the upcoming mint. Afterward, on January 18, the multi-week interactive mint event begins, bringing with it a set of unique mechanics. See the below graphic for more on key dates.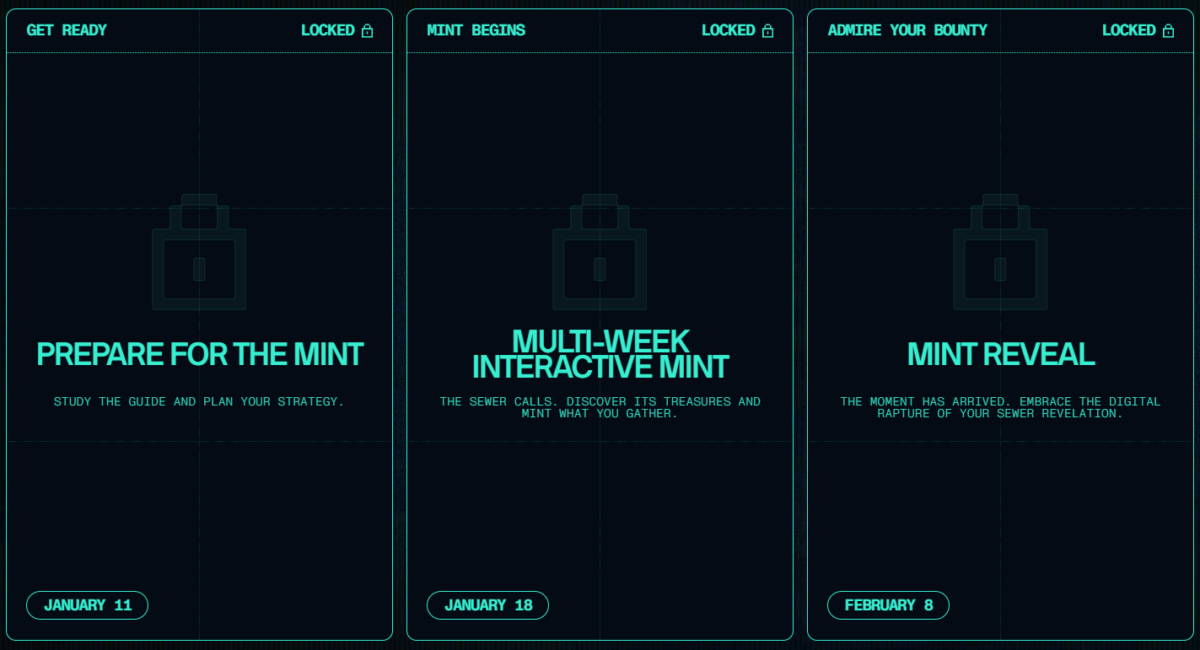 But the excitement doesn't stop there, as via MDvMM, "the story continues" from chapter six and beyond. As for what this might entail, BAYC's Twitter provided a bit more insight, stating, "the trial [of Jimmy] is the prologue to a series of activations coming over the course of next year." Considering the tenacious nature of Yuga Labs, it wouldn't be a stretch to say that BAYC members should expect more than six chapters in this evolving ecosystem expansion.
How to prepare for the mint
Regardless of what is to come in 2023, it's apparent that things will really kick off during the interactive mint event on January 18. Although details have yet to be released, Yuga gave somewhat of a hint to collectors via Twitter by posting a tiered chart depicting the different levels of BAYC ownership that should be considered leading up to the mint. "We don't want to spoil everything, but here's a tip: When it comes to the mint, Apes (BAYC or MAYC) who also hold BAKC will be in tiers of their own," Yuga added via blog post. "There will also be an optional $APE spend mechanic, for those looking to enhance their minting experience."
Pro-tip: When it comes to the mint, Apes (BAYC or MAYC) who also hold a BAKC will be in tiers of their own. There will also be an optional $APE spend mechanic, for those looking to enhance their minting experience. pic.twitter.com/suAMva2Pfi

— Bored Ape Yacht Club (@BoredApeYC) December 20, 2022
Those looking to sell their BAYC, MAYC, or Kennel Club Dogs may reconsider after learning about the potential benefits of NFT pairing going into the mint. The same can also be said for those hoping to swap out their $APE, considering Yuga's line about an optional token spend mechanism. But as if the chart wasn't enough already, enthusiasts should also assume that the BAYC and Otherside gaming ecosystems will likely see a major upgrade in the future as Activision Blizzard President and COO Daniel Alegre has been onboarded to Yuga Labs as the company's new CEO.
It should be noted that those looking to participate in the forthcoming drop will need to use caution when obtaining information about the activation. To reiterate a tweet from BAYC: Yuga's news site, in addition the official BAYC Discord and Twitter account should always be considered primary sources of information.