elementum debuts manfred p. kage's artwork AS NFTs
As one of the first to bridge the new possibilities of NFTs with art, elementum is a pioneering platform for visionary digital creatives as well as collectors – just land at Zurich Airport to see the immersive NFT gallery for instance. The platform sits at the forefront of digital art by solely working with pioneers of algorithmic art. As such, elementum has dropped the genesis NFT of renowned figure in microphotography, Manfred P. Kage (1935-2019).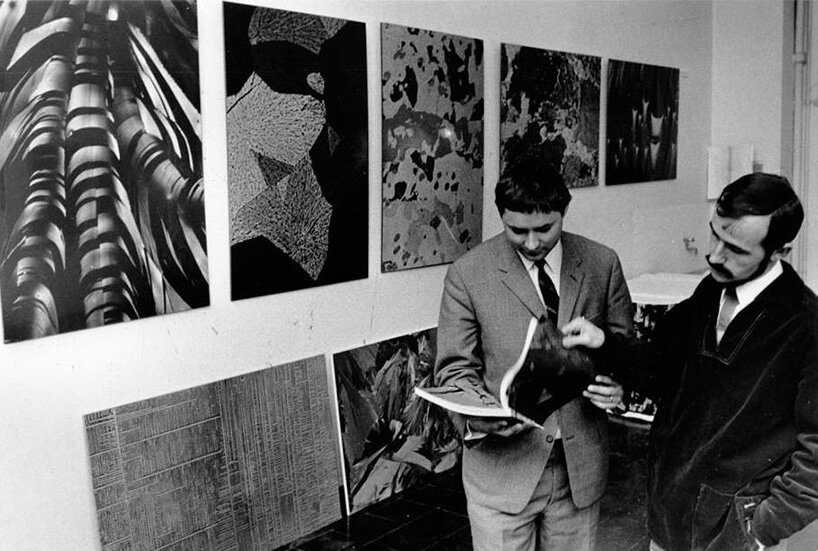 Image © 1966 Manfred P. Kage with Carl Strüwe group exhibition, Copyright © KAGE Mikrofotografie
Manfred P. Kage (1935-2019) was a renowned artist, science photographer, filmmaker and inventor who was a prominent member of the ZERO art movement. By coining the terms 'science art' and 'modern science art', his work used innovative techniques to visually depict the complexity of nature. From the Museum of Modern Art in New York to global events like the Olympic Games, EXPO and Venice Biennale, Kage's creations revolutionized the synthesis of science and art. A true pioneer in digital art whose work, for the first time, has now been dropped as NFTs by the elementum platform.
'The fact that things are not what they appear was an enlightenment for me then, it was like opening the door to a mysterious world – a universe that can explore step by step and gain insights,' said Manfred P. Kage.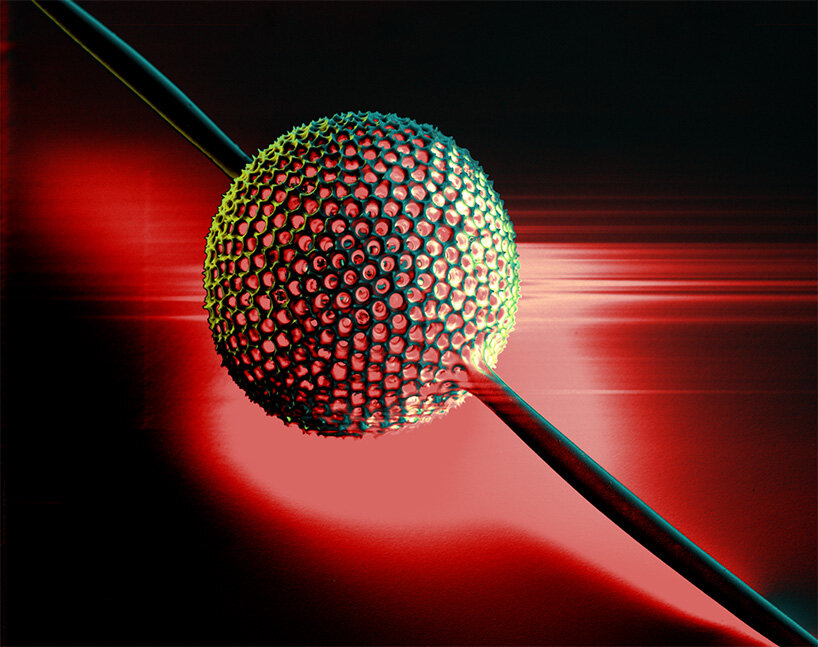 Image © Manfred P. Kage, courtesy of elementum, Radiolarie – No. 2, 2004
elementum's manfred p. kage's genesis NFT series
The first of the genesis series is titled 'Radiolarie – No. 2'. Radiolaria are microscopic unicellar organisms that form aesthetically beautiful skeletons of silica in the sea. Fifty of these skeletons fit on the size of a pencil dot. The artwork realized Manfred P. Kage's creative challenge to visually uncover the aesthetics of the tiniest micro-worlds. The artist made this tangible for viewers through his work, thanks to the invention of SEM science art that used a scanning electron microscopy established in 1977.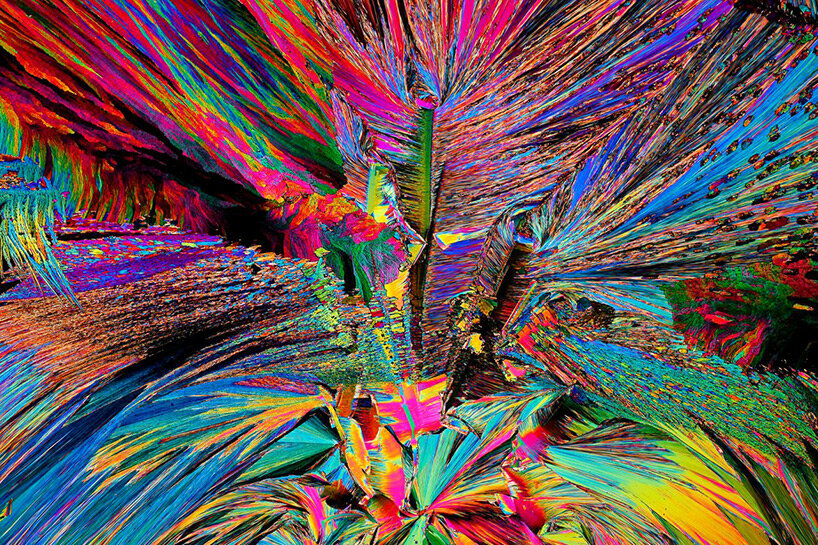 Image © Manfred P. Kage, courtesy of elementum, Dimensionssprung, 2007
With a seemingly natural blur of vibrant colors, 'Dimensionssprung' is the second work of the NFT series. The artwork formed part of Manfred P. Kage's 'Microverse of Crystals' series which are crystal-optical pictorial works created with the help of a polychromator. This machine is an optical synthesizer used for microphotography, invented by Kage himself in 1957.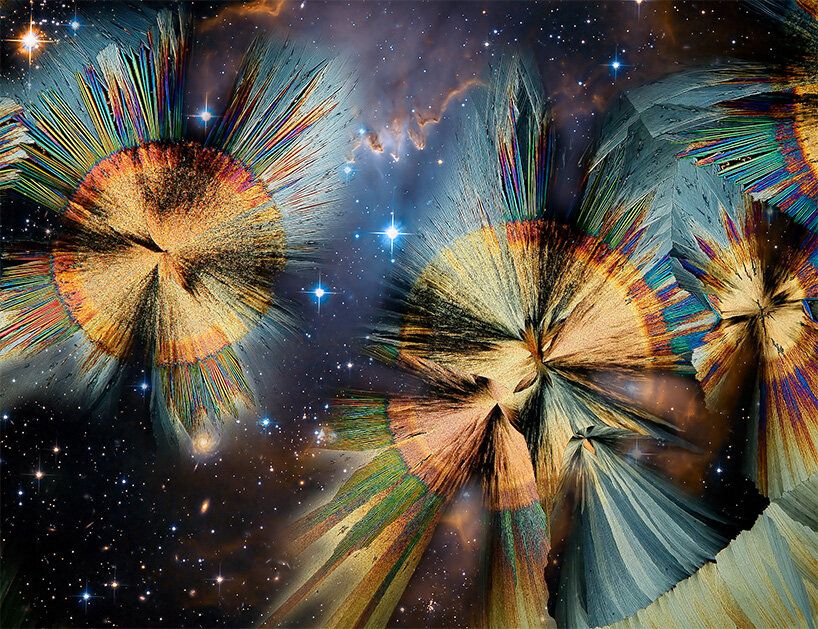 Image © Manfred P. Kage, courtesy of elementum, Mikrokosmos Verschmelzung, 2009
Kage's three NFTs are currently on view at the group show 'Liebe Maschine, male mir' at the pop-up elementum.art NFT Gallery at Zurich Airport in collaboration between elementum and Kate Vass Galerie. Manfred P. Kage's 'Mikrokosmos Verschmelzung' transports art into the stratosphere. It illuminates the invisible connection between human existence, nature and the cosmos in his new multimedia. The artwork visually combines the crystallization of acenapht compounds in the microscope with an astro-image from NASA. The explosions of elements capture the all-encompassing rhythm of chaos and order in organisms.
'When I met Manfred P. Kage for the first time at the exhibition ZERO at Martin in Gropius Bau in Berlin in 2015, it was a great revelation for me to experience an immersive multimedia performance which was conducted through microscopic imagery. I instantaneously saw the deep connection between the hidden secrets of nature and the mathematical beauty in digital art. The sheer amount of self-constructed apparatuses and inventions by Kage in the history microscopy was quite overwhelming,' explains Georg Bak, digital art advisor and curator of the NFT drop. 
'In my numerous discussions with Gottfried Jäger (founder of generative photography) and Herbert W. Franke (a close friend of Manfred P. Kage, who wrote his obituary) I learned that many of the early computer artists were heavily influenced by microscopic art. Gottfried Jäger curated an exhibition with Manfred P. Kage and Carl Strüwe (another great microscopic photographer) in Bielefeld in the 1960s. When looking back at the historical art + tech exhibitions such as for example "The New Landscape in Art and Science" by György Kepes microscopic images were quite prominently displayed. However the context of microscopic and scientific imagery within digital art is still quite unexplored.'
series info:
platform: elementum
artist: Manfred P. Kage
drop date: Friday, 9 December at 5pm CET
Explore the Manfred P. Kage works on the elementum.art platform and secondary market on OpenSea.
Visit the group exhibition 'Liebe Maschine, male mir', on view at the elementum.art NFT Gallery, Circle 18, 8058 in Zurich.