Last updated 7th Dec 2022
Tezos price continued its bearish trend on Wednesday even after some encouraging news about the ecosystem. XTZ plunged to a low of $0.97, which was the lowest point since November 30. This price is a few points above the year-to-date low of $0.910. In total, it has fallen by over 35% from the highest point in November.
Tezos NFTs rebound
Tezos is a leading blockchain project that provides smart contract solutions for apps in decentralized finance (DeFi), Non-Fungible Tokens (NFT), and gaming among other fields. Some of the top games apps in its ecosystem are Tezotopia, Circuit Breaker, Pixel Potus, and Emergents.
Tezos is mostly known for its NFT products. Its technology powers well-known teams like Manchester United, and RedBull Racing among others. This makes the brand popular among millions of fans around the world.
Tezos price has dropped in the past few days because of the broad performance of the crypto industry. Indeed, most cryptocurrencies, including big-cap names like BTC and ETH have all retreated in the past few days.
This decline happened because of the strong American jobs numbers that signaled that the Federal Reserve will maintain its hawkish tone. The numbers showed that the economy added 283k jobs while the unemployment rate remained at 3.7%.
Find out how to buy Tezos.
Tezos price has also crashed because of the ongoing crash of FTX and Alameda Research. Investors are afraid of the ongoing contagion in the crypto industry.
As a result, analysts and investors have overlooked the fact that Tezos' NFTs are doing well. The total sales of Tezos NFTs rose to $1.79 million in November from $1.4 million in October. In September, the sales were $1.33 million while in August, it transacted NFTs worth $659k. This is a sign that the trend is positive despite the challenges in the crypto industry.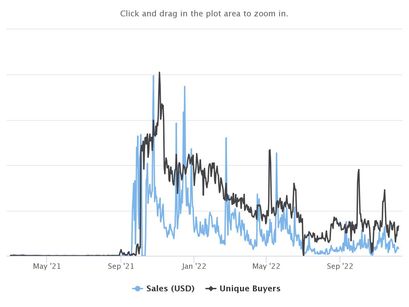 Tezos price prediction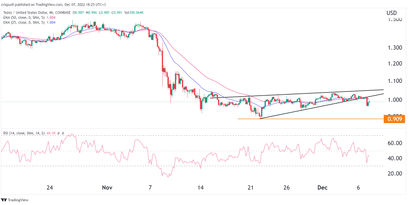 The four-hour chart shows that the XTZ price has made a bearish breakout in the past few days. This decline happened after the coin made a rising wedge pattern that is shown in black. A rising wedge is usually a bearish sign.
Tezos price has crashed below all moving averages and is slightly above last month's low of $0.909. The Relative Strength Index (RSI) moved below the neutral level. Therefore, the coin will likely continue falling as sellers target last month's low of $0.90. A move above the resistance level of $1.004 will invalidate the bearish view.