Top Republicans and conservative figures will gather in Phoenix, Arizona on Saturday for a four-day conference amid ongoing controversy over former President Donald Trump's NFT trading cards.
Trump's son, Donald Trump Jr., will be one of the featured speakers at Turning Point USA's America Fest that takes place from December 17 to 20 and comes as some conservatives have expressed anger and disappointment with Trump's "major announcement."
Former White House adviser and long-time Trump ally Steve Bannon will also speak at the conference. He suggested on Friday that whoever advised the former president to launch an NFT collection should be fired.
"I can't do this anymore," Bannon said in response to Trump's video announcing the NFTs.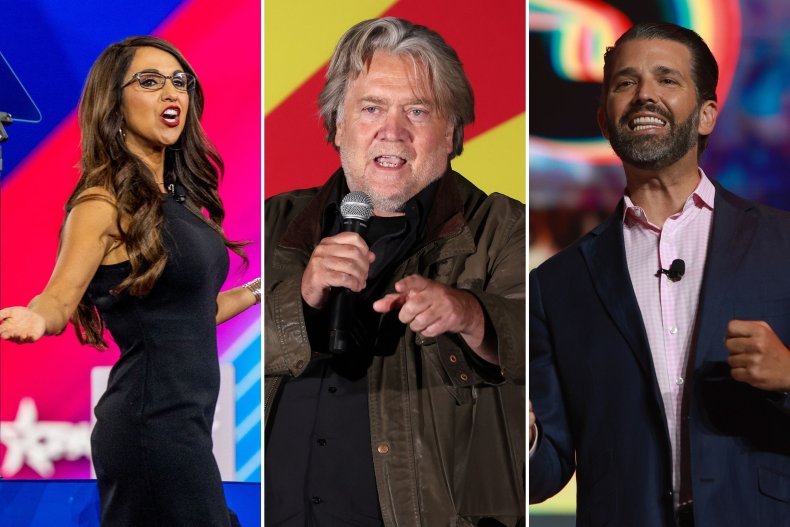 "He's one of the greatest presidents in history, but I gotta tell you, whoever…business partner [or] anybody on the comms team and anybody at Mar-a-Lago…and I love the folks down there, but we're at war—they ought to be fired today!" Bannon said.
Bannon wasn't the only conservative to criticize the trading cards and the matter may be a point of discussion in Phoenix over the coming days. Trump's formal announcement of his latest White House bid will almost certainly be another topic of interest for speakers and attendees.
Newsweek has asked Trump's office about the NFT collection.
Who Is Attending?
In addition to Trump Jr. and Bannon, a host of well-known conservatives are part of the America Fest line up this year, including some elected Republicans.
U.S. Representatives Lauren Boebert, Matt Gaetz and Byron Donalds and Senator Josh Hawley will be there, as well as Arizona gubernatorial candidate Kari Lake, who has filed a lawsuit seeking to overturn her defeat in the recent election.
Fox News personalities Tucker Carlson, Laura Ingraham and Greg Gutfeld are also slated to speak in Phoenix, as is conservative commentator Candace Owens and Turning Point USA founder and president Charlie Kirk
Other speakers include Representative-elect Harriet Hageman, MyPillow CEO Mike Lindell, former Speaker of the House Newt Gingrich and former White House Press Secretary Kayleigh McEnany.
How to Watch
Those interested in watching the four-day America Fest conference can do so at Turning Point USA's website, where a live stream has already been set up in anticipation of the event.
The website also notes that highlights and full speeches will be made available.
It remains to be seen whether the recent controversy about Trump's NFT collection will be a major feature but his 2024 campaign is bound to spark interest.